Interior & Exterior Vehicle Lifts
Traveling with a wheelchair, power scooter or other mobility device can present some unique challenges. Most vehicles aren't outfitted with the space or capabilities to safely transport one, but luckily, BEK Medical Inc. in El Paso & Dallas TX can help with that. We have auto lifts that can make it easy to bring your mobility device with you wherever you go. Whether you use one of our interior vehicle lifts that will bring your device right up into car, truck, or SUV or one of our exterior vehicle lifts that will hold it in place outside, you will surely appreciate how simple and convenient it is to use our vehicle lifts.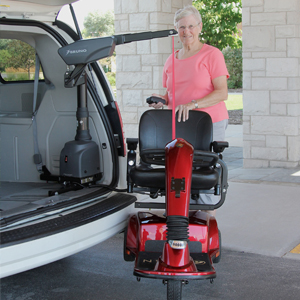 Before you start shopping around for auto lifts, be sure to speak with one of the mobility experts at BEK Medical Inc. to determine which options would be best for your specific vehicle. Some of the vehicle modifications available through BEK Medical Inc. will only work with certain kinds of vehicles, but we would be more than happy to walk you through your options. We can also speak with you more about the differences between interior vehicle lifts and exterior vehicles lifts.
Vehicle modification lifts can help to ensure that you never have to be without your mobility device, no matter where the road takes you. More importantly, they can keep it safe and secure when you aren't using it. Whether you install interior vehicle lifts inside of your van or exterior vehicle lifts in the back of your RV, you can pick your device up and put it down in a matter of just seconds for use or quick storage. Let BEK Medical Inc. show you how auto lifts will change the way you get around.
If you would like more information on vehicle lifts, give BEK Medical Inc. a call at 915-599-1129 today. Click here to view Wheelchair & Scooter Vehicle Lifts for Sale
Joey™ – View PDF
Chariot® – View PDF
Curb-Sider® – View PDF
Out-Sider® ASL-250A/B – View PDF
Out-Sider® ASL-250HTP – View PDF
Out-Sider® MICRO – View PDF
Space-Saver – View PDF
Stow-Away™ – View PDF
Valet® Plus – View PDF
Back-Saver™ – View PDF
Big-Lifter™ – View PDF
Lifter – View PDF
Out-Rider® – View PDF