By completing residential elevator installation in your home, BEK Medical Inc. can make it simpler than ever for you to get from one floor of your home to the next. All you will need to do is step into your elevator, or roll your wheelchair or mobility device inside, and within a matter of seconds you will be on your way without being hindered by your limited mobility.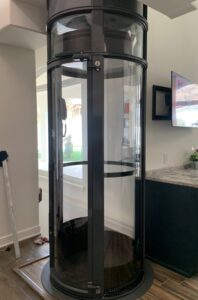 At BEK Medical Inc. in El Paso & Dallas TX we offer a wide range of residential elevator models to meet your individual needs and style. While there are some homeowners who want something as simple as possible, others look to use their residential elevators as a means to enhance their homes. We can provide you with elevators that offer panoramic views, hardwood floors, intricate wall designs, and so much more. Before we provide residential elevator installation services for you, we will show you many different options and help you narrow down your choices. We can custom make residential elevators from the ground up, and more often than not, we don't have to do many modifications to a home to make it fit correctly.
If you have been thinking about adding a residential elevator to your home, there's no better time like the present. With quality residential elevator installation from BEK Medical Inc., you can start using your elevator right away and make getting between the levels of your home easy once again. Boosting your home's decor will be just an added bonus.
Interested in installing one of our residential elevators in your home? Contact BEK Medical Inc. at 915-599-1129 to start the process today.