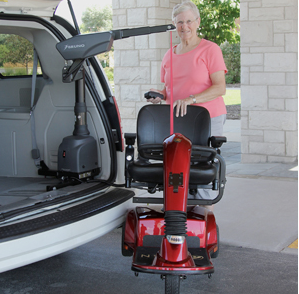 It can be a challenge to travel with a wheelchair, power scooter, or other mobility device, and navigating the world of accessible vehicles can feel daunting. You're not just buying a car but investing in freedom, independence, and mobility, so making the right choice is crucial!
Here are some essential tips and considerations to remember when searching for the perfect wheelchair-accessible vehicle.
Find a Reputable Dealer
A dealer will have trained experts, inside knowledge, and special equipment, whereas a private seller may not have any of the above. Speak to a professional about your needs and whatever you do, never by a wheelchair-accessible vehicle sight unseen. Dealers belonging to the National Mobility Equipment Dealers Association are the best choice.
Understand Your Specific Needs
When choosing a wheelchair-accessible vehicle, it's important to prioritize your specific needs. Consider the user's physical capabilities, the size and weight of the wheelchair, and the frequency and distance of travel. The ideal vehicle should provide comfortable and safe accommodations for these needs.
Consider Vehicle Size
When choosing a vehicle for a wheelchair user, it is important to consider its size. It should provide ample space for comfortable entry, exit, and ride. While full-sized vans offer greater flexibility in configuration, smaller adapted vans or SUVs may be more suitable if parking or handling larger vehicles is a concern.
Be Prepared for Maintenance and Repairs
Keep in mind that wheelchair-accessible vehicles may require more frequent maintenance due to their conversions. Choose a vehicle with a good warranty and a conversion that is serviceable in your area.
Understand Manual vs. Powered Ramps
If you're looking for a wheelchair-accessible vehicle, deciding whether you need a manual or powered ramp is important. Manual ramps are cheaper but require physical strength to operate and are less likely to malfunction. Powered ramps are more expensive but are easier to use.
Seek Professional Assistance
Finally, it's recommended to consult with a mobility consultant or occupational therapist when making your decision. Their specialized knowledge can assist you in choosing the most suitable option for your individual circumstances.
In the pursuit of making life easier for individuals with mobility issues, BEK Medical offers a wide range of home mobility products and installation services. We have auto lifts that make it easy to bring your mobility device wherever you go. Whether you use one of our interior vehicle lifts that will bring your device right up into a car, truck, or SUV or one of our exterior vehicle lifts that will hold it in place outside, you will love how simple and convenient it is to use our vehicle lifts.
Contact us today to speak with one of our mobility experts to determine which options would be best for your vehicle!