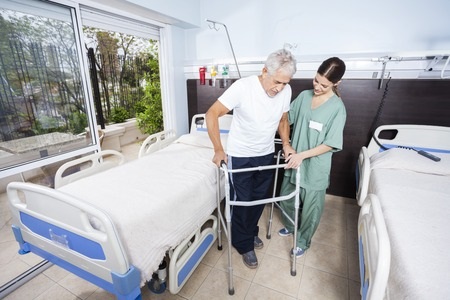 If a senior citizen is placed into a hospital after an illness or injury, the hospital will often suggest or demand that the senior gets transferred to a rehabilitation center (following the hospital visit) in order to get stronger and continue the recovery process.
Many senior citizens often end up in a rehab center as a result of a broken hip, a joint replacement, a stroke, serious fall, malnutrition, etc.
Rehabilitation centers are an important part of the recovery process after one of these events occurs.
After being hospitalized, most seniors just want to return home. For many senior citizens, ending up in rehab is frustrating, discouraging, and disappointing. They often become depressed, especially within the first 48 hours, because they think that rehab is a negative and that is somewhere that you go to "give up."
However, rehab is the safest place for a senior citizen to be following a major health issue.
A rehab center will help them regain their strength and their spirit, in order to get them well enough to return home or to a true senior care community. It is important for loved ones and caregivers to encourage senior citizens that rehab is a step in the right direction towards the recovery process and encourage the process as a "positive." It is important to encourage them to not give up.
A rehab center is similar to a hospital in the sense that it will provide constant care and supervision to make sure the patients are being cared for and monitored.
The staff often consists of physicians, nurses, physical therapists, occupational therapists, speech therapists, social workers, and so forth. All of the staff members are focused on getting the senior citizen well enough to be discharged from rehab safely.
Rehabilitation centers work with patients to ensure that their health improves enough to help them return to their maximum functional potential.
If your rehab center is looking for medical equipment, visit BEK Home Medical Equipment.