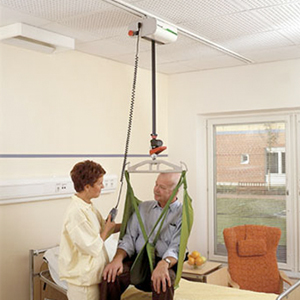 Whether you struggle with a physical disability yourself or you are the caregiver of someone who does, deciding on medical equipment can be challenging. Patient transfer is an important part of daily care in many people's lives. Caregivers often have difficulty lifting a patient for daily life activities, including bathing, dressing, toileting, and patient transport. Patient lifts can positively alter peoples' lives by helping provide them with freedom of mobility, allowing them to be more independent, and making lifting easier and less dangerous for both caregivers and patients.
What are Patient Lifts?
According to the FDA, patient lifts are designed to lift and safely transfer patients from one place to another (e.g., from bed to bath, chair to the stretcher). Patient lifts may be operated using a power source or manually. The powered models generally require a rechargeable battery, and the manual models are operated using hydraulics.
Although all patient lifts are designed to assist in safely moving a person from point A to point B, they are available in various styles and options to accommodate a range of patient needs. Choosing the right patient lift to meet your individual needs is crucial. 
What are the Different Types of Lifts?
To choose the right lift, it's important that you first consider the patient's unique needs. Knowing about the different types of patient lifts will help you select the one that most closely addresses your needs.
Manual Lifts
Manual lifts are usually more affordable and typically utilize hydraulics or gas for their operating power. They don't require an electric power source and are a good choice for most patients, as they provide general versatility to perform a range of transfers, even from the floor. Manual lifts may be slightly difficult to handle for caregivers who have limited strength. These lifts are not a good choice for larger or heavier patients.
Electric Lifts
Electric patient lifts offer easier operation and are powered by rechargeable batteries or electric power. They tend to offer a higher weight capacity and smoother movements for the patient than manual lifts. Although they are higher in price than their manual counterparts, they are preferred by caregivers who provide daily care on a long-term basis.
Standing Patient Lifts
Sit-to-stand lifts assist patients as they move from a sitting position to a standing one. They require the patient to have some ability to bear weight while standing and come in both standard and more compact styles. They're often used to help people stand up from a bed, chair, sofa, or wheelchair.
Overhead Ceiling Mount
Overhead ceiling mount lifts travel along track systems to provide smooth and easy lifting transfers. They can be placed throughout the house to safely move patients wherever they need to go. Ceiling lifts offer multiple design options to suit most homes' layouts and are one of the most versatile patient lift systems. Most caregivers and patients find them comfortable and easy to operate.
Factors to Consider
There are multiple factors to consider when deciding which patient lift is best for you. Here are a few things you need to think about:
Patient size
Height and adjustability of lift chair
Portability
Patient weight
Emergency control (it's important to make sure that it offers manual override or emergency control so you can still safely lift and transfer the patient if the power goes out)
You need to consider the patient's level of ability and unique requirements, and you also need to determine the caregiver's strength, dexterity, and capability. Figuring out what will fit into your home and how it will be used will also be important determinants in finding the best patient lift.
At BEK Medical, we recognize that patient lifts are extremely beneficial to caregivers and allow them to create the safest environment possible for the people they assist. That is why we offer custom patient lifts that are comfortable for both the patient and the caregiver to maneuver. Whether you choose to go with one of our ceiling-installed patient lifts or opt for portable patient lifts that can be taken from one room to the next, BEK Medical can set you up with any necessary installation services and answer any questions you may have about the different options we offer!
Call us today or stop by in-store to learn more about our patient lift options.