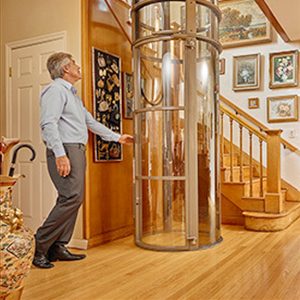 Residential elevators have been around since the late 1800s. They were mainly used in the mansions of wealthy homeowners in big cities like New York and Chicago. These elevators would transport guests to upper ballroom floors or take people and their luggage up to bedrooms.
Today, residential elevators are growing in popularity for convenience, mobility, and style. They are particularly useful in providing a safer option than the stairs, especially for elderly residents or those with mobility issues.
Here are some of the top reasons you might want to install a home elevator!
Convenient for Large Family Dynamics
Children: If you are a caretaker for young grandchildren or occasionally babysit, a home elevator can be a huge help. Many little ones find navigating stairs to be daunting. Even small kids can be surprisingly heavy, so you could injure yourself by lifting too much weight if you carry them up or downstairs. You might also increase your risk of slipping and falling, injuring you both. With a home elevator, helping kids move between upper and lower floors is a breeze.
Elderly: On a similar note, if you have elderly parents living with you, you may find that stairs are hard for them to navigate. Nowadays, more and more senior adults are moving in with their adult children. If your elderly parents live with you, you can make their lives and yours much easier by installing a home elevator. You'll have peace of mind, knowing your parents can navigate your home comfortably and safely without the risk of slips or falls on the stairs.
Pets: It's not just humans who grow older and become less adept at navigating steep stairs. If you have older dogs who need to go out often but can't manage the stairs as well as they once could, a home elevator can be helpful. Associating the elevator with praise and tasty treats is a great way to help your senior dogs get accustomed to the new ride if they have any fears about it.
Great for Disability and Mobility Related Issues
Functionality: Even if you can navigate the stairs, they may become difficult while carrying heavy boxes, bags of groceries, or a big pile of laundry. A home elevator helps restore some functionality, helping you carry belongings and perform household chores with ease.
Accessibility: One of the most significant benefits of residential elevators is the renewed access they provide. If mobility limitations constrain your movement around your home, a residential elevator is an incredibly freeing tool. If you fall, twist an ankle, or sprain your knee, you may be confined to the ground floor because walking up the stairs has become too difficult. A home elevator can give you the freedom to roam about your entire house.
Adds Value to Your Home
You're not alone if you're in the market for a home elevator for health or mobility reasons. Many people in similar situations wish they had the convenience and luxury of a home elevator as well. Many buyers will view a home elevator as a valuable asset if you decide to sell your home. Potential homebuyers would likely be willing to pay significantly more for this feature.
Even if homebuyers do not need an elevator right now, they may be glad to have one if they need accessibility features in the future. A quality home elevator well integrated into your home's architecture and design is an attractive, functional feature, like a well-crafted deck or luxurious pool. It's something many buyers would happily pay extra for.
If you feel that you or a loved one could benefit from installing a residential elevator, BEK Medical can assist you! We offer a wide range of residential elevator models to meet your individual needs and style.
Give us a call today to learn more about our residential elevator installation process and start enhancing the functionality of your living space!