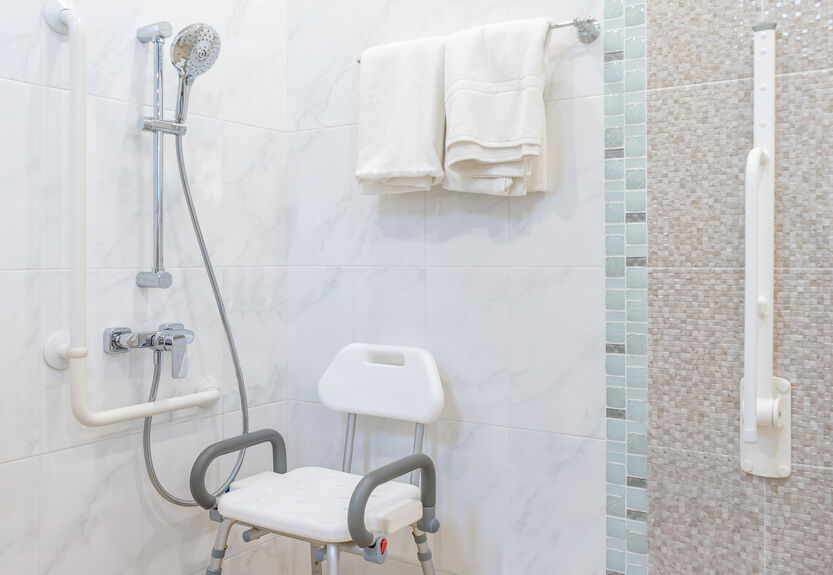 You don't have to have a disability to benefit from high-quality bathroom safety equipment. There are several reasons people choose to make their bathroom more accessible, and many products are very affordable!
Who Can Benefit from Bathroom Safety Equipment?
Bathroom aids can help a wide range of people, both temporarily and long-term, including:
People with cognitive disabilities, such as down syndrome, dementia, or lower-functioning autism
Senior Citizens
People with physical disabilities, such as cerebral palsy, multiple sclerosis, or cystic fibrosis
People recovering from surgeries or accidents
Types of Bathroom Aids and Accessories
Here are a few different bathroom safety aids and accessories to help you function efficiently in your space!
Grab Bars
Grab bars are toilet assistive devices affixed to the wall, providing extra support to enhance bathroom safety. They are mounted in various areas around the bathroom to lessen slip and fall risk. For those who find themselves in a higher fall risk category, such as the elderly, grab bars provide balance support, reduce exhaustion while standing, and supply a secure object to hold onto in case of a slip or fall.
Transfer Benches
Transfer benches are one of the top shower aids for the elderly or any disabled adult. They allow people to remain seated while transferring in and out of the shower or bathtub. Two legs are placed inside the tub, while the other two legs are placed on the bathroom floor. The bench crosses over the bathtub wall, eliminating the need to climb in and out. Once in the tub, the bench provides a secure place to sit while showering.
Toilet Frames and Safety Rails
Toilet safety rails and frames are devices that make it easier, safer, and more comfortable to get up and down from the toilet. They prevent falls and provide stability to people with mobility, strength, or balance issues. They are also useful if you have vision problems or are recovering from an injury or surgery.
It's important to follow proper bathroom safety tips to prevent slips, falls, and injuries. These unique aids and accessories can provide you with the support you need to stay safe.
At BEK Medical, we have a wide range of bathroom accessibility products to help you feel more confident and independent in your space. Contact us today or stop by in-store to find out what products will work best for you and your lifestyle!