Staying active when your mobility is limited is a challenge. But one of the best ways to get in some exercise is to swim or move around in the water. The buoyancy of the water makes movement less stressful and painful on your joints and muscles, allowing you to move around more freely.  
A common problem, however, is that even if you have a pool, limited mobility will make it hard for you to get in and out of it. Fortunately, a portable swimming pool chair lift from BEK Medical can be the ideal solution. 
Residential Swimming Pool Lifts
At BEK Medical, we offer home mobility solutions in El Paso and Dallas—and that includes mobility solutions for your outdoor space. Our portable swimming pool chair lifts will allow you to use your pool safely and comfortably without needing another person to help you in and out. You can use our pool lifts for hot tub spas as well. 
Residential swimming pool lifts can easily be installed on any type of decking surface. Our team can set up your lift quickly and expertly. We can also provide and install custom portable swimming pool lifts—such as a lift that folds up and can be moved to make more space—if your pool layout has special requirements.  
Our specialists will gladly help you through every step of the process when you get your pool lift through us. From choosing the right one to installing it at your El Paso or Dallas home and showing you how to use it safely, we'll have you going for a dip in no time.  
Reach out to BEK Medical today to discuss a portable swimming pool lift for your home!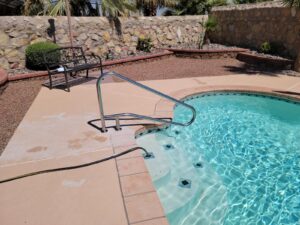 Services Contact
"*" indicates required fields