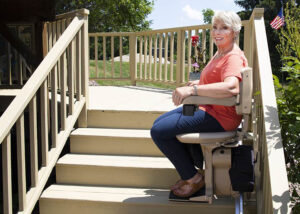 An elevated deck or porch is a wonderful feature to have on your property. But if you're struggling with mobility problems, that wonderful feature can turn into a stressful hazard. Fortunately, BEK Medical offers a simple solution—outdoor stairlift installation.
Our home medical supply store has a premier selection of outdoor stairlifts that you can order online or through our El Paso or Dallas locations. If you live locally, our team will also be happy to install your stairlift and make your outdoor space easy to access. 
Outdoor Stairlifts & Outdoor Stairlift Installation in El Paso & Dallas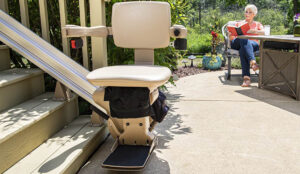 Relaxing outside of your home and being in the beauty of nature is a luxury everyone deserves, no matter your age or health. With an outdoor stairlift from BEK Medical, poor mobility doesn't have to stop you from enjoying that luxury. 
The Bruno outdoor stairlifts we carry are specially designed to remain functional and retain their quality even in harsh outdoor elements. You'll be able to easily access your porch, deck, or other outdoor areas with stairs year-round. Bruno stairlifts are known for their smooth, comfortable, and safe rides. They're also available in a variety of colors and styles, including straight and curved, so you can choose one that complements and is practical for your outdoor space.
Unsure how you'll get your new stairlift up and running? No need to worry. The BEK Medical team has plenty of experience with outdoor stairlift installation and can offer their services at your El Paso or Dallas home.  
Are you ready to take pleasure in your outdoor space without stress or pain again? Get in touch with BEK Medical to order your outdoor stairlift today! 
Services Contact
"*" indicates required fields