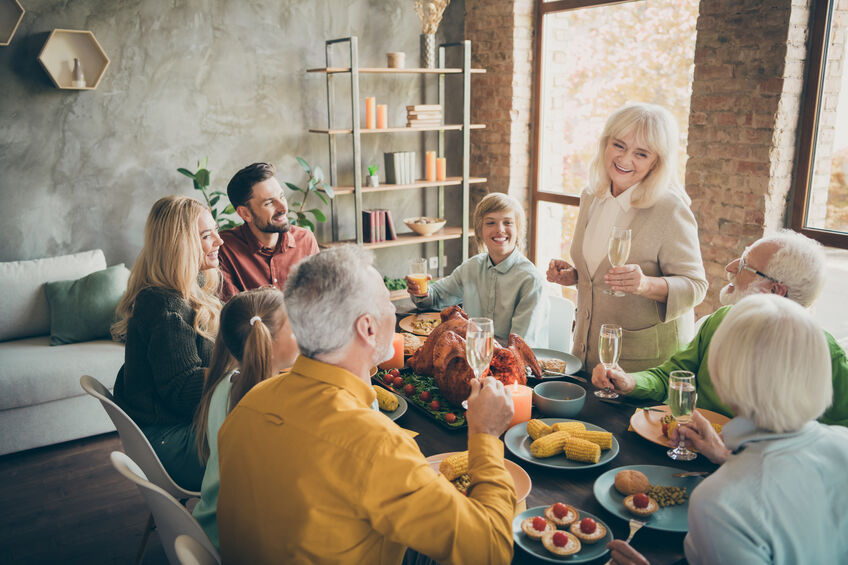 With Thanksgiving about a week away, there is much preparation to do. We are all busy, from cleaning and decorating your home to polishing the silverware and preparing your favorite seasonal recipes. One important thing to remember this holiday season is to take special care to make the day enjoyable, especially for senior family members!
Take some steps to ensure your home is safe and comfortable for your older relatives, and consider offering an invitation to elderly neighbors whose families live far away. The holidays can be difficult as we age, and seniors must stay active and involved throughout this busy season.
Be Attentive
When setting the table this Thanksgiving, make sure there is a special place for any loved ones with physical limitations. Reserve a seat at the head of the table for family members with walkers, canes, or wheelchairs to make sure they can get in and out of their seats simply. Also, remember to place your senior parents or grandparents where they can be easily included in conversations. Talk to young children about sharing the latest news with older relatives to make them feel included and welcome this Thanksgiving.
Consider Dietary Needs
Remember to consider your family member's dietary needs this holiday season to ensure everyone can enjoy a healthy and delicious Thanksgiving meal. Review recipes with family members with dietary restrictions or call your doctor's office to ensure you can share the meal you have planned. This is especially important for people with severe allergies to certain foods or ingredients!
Review Your Home for Safety Hazards
Before guests arrive, take some time to review your home for potential safety hazards that could lead to a fall. Make sure walkways are clear of clutter and have plenty of room for individuals with walkers and wheelchairs to get through. Also, check that all electrical cords are tucked away carefully, and ask your kids to pick up toys when they are finished playing with them.
Most importantly, ensure your senior relatives feel welcome and loved this holiday season. Offer to pick them up before the festivities begin and include them in all the fun!
If you are looking for safety or mobility products to ensure your home is ready for guests of all ages this holiday season, BEK Medical has you covered. From home elevators and wheelchair ramps to high-ality lift chairs and orthopedic equipment, we have everything you need to make your guests feel comfortable and welcome.
Browse our online shop or stop by one of our three convenient locations!