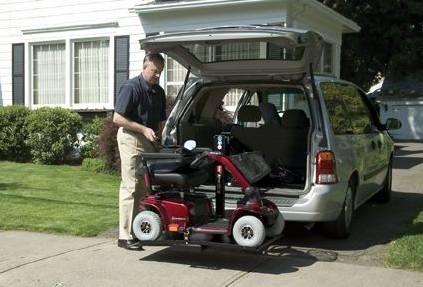 If you use a wheelchair, you may be considering a wheelchair lift to make it easier to get in and out of your car. However, choosing among the different options takes an understanding of the various products on the market and the advantages and disadvantages of each.
Here's our guide to different wheelchair lift options for vehicles:
Outside lifts
This type of lift is secured to the exterior of a vehicle and allows you to transport your wheelchair or mobility scooter without using any interior space in your car. This type of lift is also popular because it's relatively easy to transfer from vehicle to vehicle. You can even operate it on your own if you're able to stand for two to three minutes while the lift is in operation.
Hybrid lifts
This type of lift is mounted in the vehicle's cargo area. It works best in SUVs and vans, because the entire lift will need to be housed within the vehicle. They're especially convenient because they feature a drive-on platform. You can wheel yourself onto the lift, and the mechanical system will do the rest.
Inside lifts/hoists
Like hybrid lifts, inside lifts are mounted in a vehicle's cargo area, but they swing outward to load the wheelchair. They're a good choice for smaller SUVs, since they take up less space, but they can be more difficult to operate than other kinds of lifts.
BEK Medical has the perfect wheelchair lift options for you
We suggest the Pride Backpacker Plus by Pride Mobility. This lift system has a robust construction, sleek design, and a powerful weight capacity of 350 pounds. It is fully-powered for lifting and rotating for effortless loading of products, which can include travel and full-size mobility scooters and power wheelchairs.
If you need some help getting around from day to day, BEK Medical offers a wide variety of walkers, canes and other helpful mobility products. Browse our selection online or contact us to learn more.