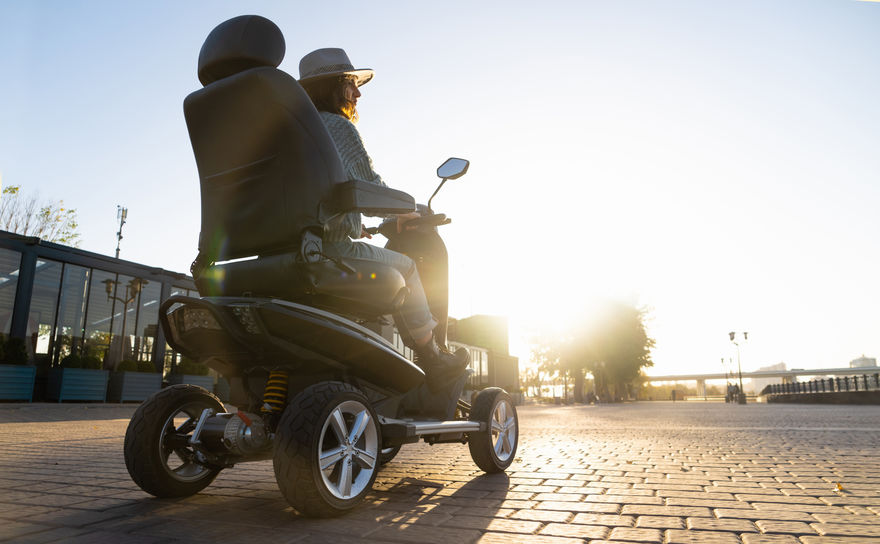 When choosing the best mobility scooter for your needs, you will encounter many 3-wheel and 4-wheel options. There are key differences between these two types of scooters, and each has its own set of benefits and considerations. It depends on your unique needs and goals regarding which scooter will work best for you.
Here are the key differences between 3-wheel vs. 4-wheel mobility scooters!
3-Wheel Scooters
3-wheel mobility scooters feature a much tighter turning radius, ideal for small spaces like homes, apartments, and public transportation. They maneuver around obstacles and tight spaces much more easily, and they are often lighter and have a lower price tag.
One of the main advantages of these scooters is they provide extra legroom due to the absence of two front wheels. This becomes especially advantageous for individuals who are either taller or suffering from leg and knee injuries.
Disadvantages: The nature of the 3-wheel scooter means less stability. They can be harder to maneuver on uneven ground, especially outdoors.
4-Wheel Scooters
Four-wheel mobility scooters are configured much like automobiles, with two drive wheels in the back and two wheels for steering in the front. This makes them much more stable and suitable for handling a variety of terrain, including curbs and short stretches of grass or gravel. They are often larger, faster, and capable of longer distances than 3-wheel scooters.
Compared to three-wheel scooters, four-wheel models provide excellent stability over any terrain, indoor or outdoor, by resisting tipping, even at top speed, and safely handling hills and curbs. Four-wheel stability is excellent for users who may suffer from poor balance.
Disadvantages: Four-wheeled scooters are, by definition, less maneuverable and may not be, depending on the size of the unit, suitable for use indoors or on public transit. They are often heavier and cost slightly more than their three-wheeled counterparts.
Now that you understand the major differences between these two scooters, BEK Medical can help you decide which one is right for you! We have many mobility scooters to choose from, including several 3-wheel and 4-wheel options. Our knowledgeable staff will determine which one fits your lifestyle the best so you can be sure to feel safe and secure in your decision.
Browse our online shop today or stop by in-store to view our collection of high-quality mobility scooters!