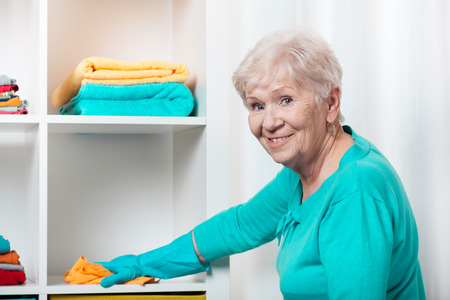 With the weather warming up, it is time to start thinking about your spring cleaning projects. This is the perfect time to start preparing your home for the new season. As the weather starts to warm up, it is time to pack away the bulky clothes and do away with unused household items.  Many senior citizens have physical limitations that don't allow them to clean how they'd like to. For other seniors, they just don't have the energy that they used to, and cleaning is a tiring task.
Regardless, there are simple ways for senior citizens to conquer their spring-cleaning list safely and effectively.
Here are some spring-cleaning tips to help the senior community this season:
Make a List
Plan out what spring-cleaning projects you would like to do ahead of time. Without a plan, the thought of cleaning can feel overwhelming. Get organized and make a list of things that you know you're capable of doing. Prioritizing will help the process go off without a hitch.
Here is a sample list to try:
Clean kitchen- cabinets, refrigerator, and floors.
Vacuum carpets or mop floors
Bathroom- Clean vanity and cabinets, replace shower curtains and shower rugs.
Bedrooms- Change sheets, clean under the bed, clean windowsills and dust ceiling fan.
Ask for Help
Don't be afraid to ask family or friends for assistance. Recruit someone to do some of the tougher jobs for you and to keep you on track. Things, like moping the floors, dusting the ceiling fans, and cleaning air vents, are jobs that can be delegated to a helpful hand. It is also good to have someone around. Cleaning requires a lot of moving around and it's good to have someone around in case an accident occurs.
Organize Medicine Cabinet
It is best to clean your medicine cabinet periodically to remove old expired prescriptions. If you have been using your toothbrush from over three months it is time to replace it with a new one.
Little Rewards
You don't have to do all of your spring cleaning at one time. Consider doing little jobs, such as making donation bags, recycling old documents, and cleaning surfaces and reward yourself when they are done. Enjoy your favorite cup of tea or a walk outside when you're finished.
Try A Yard Sale
If you have accumulated a collection of items you no longer need or use, you may want to try to host a garage sale. Yard sales are a great way to declutter your home and earn some quick cash. Have some friends or your children help set up and collect payment from customers.
Safety Checks
Once you have successfully cleaned your home, you can check for any areas in your home that may compromise your safety. Spring cleaning can also provide you with an opportunity to evaluate your living space and make sure things are suited to your specific needs. If you need a ramp installed, for instance, spring is a good time to do so.
With these tips,  we hope you can kick off-spring with a neat house and better cleaning habits.
BEK Medical is dedicated to providing home medical supplies that help encourage healthy lifestyles.  View our shop for a wide variety of equipment designed to make your life easier!
Be sure to check our blog for healthy lifestyle tips!