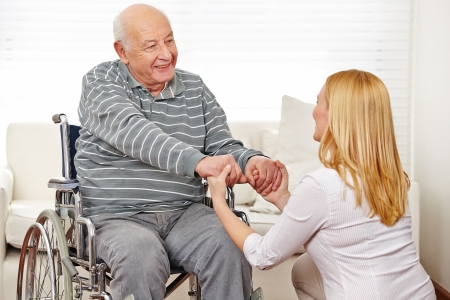 As parents age, their children often take on the role of a caregiver. Depending on the aging parents' needs, it may be difficult and time-consuming to provide them with the required care. Before considering taking on this responsibility, it is important to ask yourself some questions!
Here are a few things to ask yourself and consider before taking on the role of caregiver.
Do I Have the Time?
While it's easy to say you'll make whatever time is needed to provide for your parent, 29 percent of U.S. caregivers spend an average of 20 hours per week in their caregiving role. If you have a family and a job, this may be physically impossible to do for an extended amount of time.
Will This Affect My Career?
You need to consider if becoming a caregiver for your aging parent will negatively affect your productivity and effectiveness at work. Seven out of ten caregivers have other employment, and two-thirds have had to go in late, leave early, or miss time due to caregiving issues. In addition, one out of five caregivers has taken a leave of absence due to caregiving.
Do I Have the Financial Means?
Over one-third of experienced caregivers report spending a full 26 percent of their monthly budget on costs directly related to the care of their parent. Caretakers may take out loans on their own assets to care for a loved one and leave themselves in a poor financial situation.
If you work full-time, you will likely need to take time off to fulfill your outside responsibilities as the caretaker for your elderly loved one. If you use up all of your paid time off, you may be forced into taking unpaid time off, digging you deeper into financial trouble.
Am I Physically Capable?
You may not initially think about the physical strain you would experience by being a caretaker. On a day-to-day basis, what does a caregiver do? Typically, informal caregiver duties include:
Mobility assistance
Housekeeping
Transportation
Feeding and dietary care
Toileting and incontinence care
Grooming and personal hygiene assistance
Medication reminders
If you do not have the physical capability to lift your parent if they were to fall or if you would struggle to move them from a chair or bed without assistance, you may need to look at alternative care as a solution.
Why Do I Want to Become a Caregiver?
A caregiver does a lot of physically draining and emotionally taxing work that has the potential to cause strain in many relationships and harm the caregiver.
Ask yourself if you want to become a caregiver of your own volition or because of pressure from elsewhere. If it is the latter, then make sure you have asked all parties involved before officially becoming your loved one's caregiver.
At BEK Medical, we have all the homecare items you need to create a safe and comfortable environment for your loved one. Browse our online shop to review our home mobility services and products, or stop by one of our convenient locations for more information.