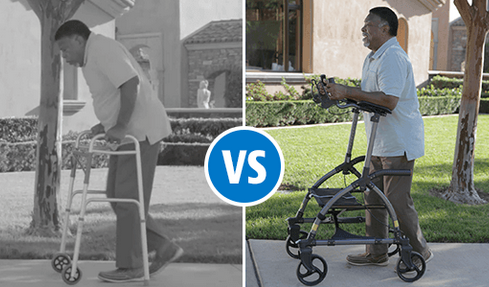 Are you a senior citizen or rehab patient who needs some help getting around from day to day? Do you have a neurological, cardiovascular or pulmonary disorder? Do you suffer from pain, instability and poor posture from using a traditional walker or rollator?
If you answered yes to any of these questions, the UPWalker Upright Walker might be the mobility aid for you!
This revolutionary product can help you get back on your feet and regain your independence. The UPWalker enables users to maintain good posture walking in a safe, secure and upright position. Using it can reduce pain in your leg joints, back and wrists.
Its features include:
Adjustable-height armrests
Padded sit-to-stand handles
A comfortable seat
Lockable brakes
Multi-terrain wheels
The UPWalker supports a weight capacity of up to 300 lbs. It can be used both indoors or outdoors, and it comes fully assembled in a graphite gray color. This mobility aid is a cinch to transport: the lightweight aluminum frame, which weighs just 23 lbs., folds for easy travel.
The UPWalker comes in three different sizes and is shipped with standard accessories including a backrest support, a beverage holder and a personal item bag that attaches to the walker's handgrip tubes.
The UPWalker Upright Walker is available now from BEK Medical. We also offer a wide variety of walkers, canes and other mobility products to help you get around. Browse our selection online or contact us today to find out more!